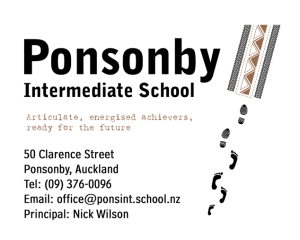 2023
Thank you for your interest in Ponsonby Intermediate School.
Ponsonby is constantly building its international profile as an Educational institution providing quality learning programmes for Students at the Year 7 and Year 8 level (11-13 years of age).
The following letter provides a brief overview of the school and is intended as an introduction.
Ponsonby Intermediate School opened in 1976 as a result of demand from the local community. The site of the school is historical, originally being the site of brickworks, used in the days of horse and cart. The school site is approximately three hectares in total area.
Over recent years extensive refurbishment has taken place to ensure all areas of the school are modern, and up to date with current education trends and requirements.
Details and Location
Ponsonby CBD – connected to our school by a regular "Link" bus service
Specialist Year 7 and Year 8 Teaching
Decile 9
School Roll 570 students
Mission Statement
The school aims to provide an environment that caters for the individual needs of the student within his/her cultural; context – focusing on:
Independence and excellence in learning
Social, emotional and physical wellbeing
Confidence and co-operation in group situations
Creative self-expression within an atmosphere for students, teachers and the community as a whole 
Special Features
Class sizes are no bigger than 28, which enables teachers to extend and develop the self-esteem of all students, broaden each child's social and cultural awareness and enhance academic records.
Child centred approach to all teaching
Extensive grounds with spacious playing and sporting facilities
Modern and attractive classrooms
Specialised modular teaching in all subject areas.
Modern technology, music, ICT specialised: Music Suite, Dance Studio, Science Labs, Art Studios, Food and Bio Tech Rooms, Fashion Design Studio, Computer Suite, Student Guidance Centre, Library
Our ICT Suite combines the portability of devices with wireless network and internet access
A Board of Trustees and staff who work collaboratively, supported by interested and involved parents, caregivers and the community.
In Our School Your Child is Special
We listen
We focus on your child's needs
We pursue educational success and excellence
We give your child a secure and supportive learning environment
We value Parents/Caregivers ideas and support
We have a professional staff with a range of teaching skills
We support students with special needs
We operate programmes for students with special abilities
We aim to discover and promote each child's unique abilities
We value and place importance in social, cultural, artistic and sporting fields
We value and place a real emphasis on academic success for all individual levels
We encourage self-reliance, responsibility, honesty, independence and discipline
We want students to find learning fun
Education Review Office Excerpts
Students receive high quality education. Students respond positively to the innovative programmes and good teaching practices
Teachers respect student's individuality and encourage their success
Teachers approach their tasks with a high degree of professionalism and are committed to providing students with a balanced education
Student motivation is maintained in a variety of ways such as interesting contexts, challenges, fun, rewards and praise
The school has a climate of open communication
The International Focus
Ponsonby Intermediate offers limited places to students from overseas each year. We see our students as "global citizens" who strive to develop wider knowledge of other nationalities. Our students have travelled on school educational trips to: China, Singapore, Hong Kong, Japan and Cambodia. We do not provide Host Families.
Withdrawal Procedures
A student may only withdraw from the programme with Parent/Caregiver consent received in writing.
If any information provided on an enrolment form proves to be false, or has not been submitted, the school may withdraw the offer of a place for that student
Tuition could be terminated under the previous conditions.
Enrolment Applications
Enrolment forms are available on our website, or you can email us on: office@ponsint.school.nz to complete an application online. Once an enrolment is accepted, an entrance test is arranged for the student prior to beginning at school.
Conditions of Acceptance
International students are accepted provided they meet the following:
At lease one term fees paid in advance
Student Insurance has been completed and paid
Proof of identity: Passport, Birth Certificate, Parent's Passport, New Zealand Immigration status
All documents relating to the enrolment and living requirements are completed and signed by parents
Refund Conditions
These are covered by the Refund Policy
Contact Details
Further details and information can be obtained for International Students from:
Jill Charlton
Ponsonby Intermediate School
50 Clarence Street
Ponsonby
T:+64 09 376 0096
M: +64 021 410 797
We look forward to meeting you.
Nick Wilson
Principal
Ponsonby Intermediate School has agreed to observe and be bound by the Code of Practice for the Pastoral Care of International Students. Copies of the Code are available on request from the New Zealand Ministry of Education: https://www.nzqa.govt.nz/providers-partners/education-code-of-practice/
Full details of New Zealand Immigration requirements are available on: https://www.immigration.govt.nz/new-zealand-visas/options/study 
Most International students are not entitled to publicly funded health services while in New Zealand. If a student receives medical treatment during their stay in New Zealand, they may be liable for the full costs of medical treatment. Full details on health entitlements are available on: https://www.health.govt.nz/new-zealand-health-system/eligibility-publicly-funded-health-services/resources-service-providers-check-eligibility/eligibility-checklist
Medical and Travel Insurance. International students must have appropriate and current medical and travel insurance with a New Zealand based insurer.
The Accident Compensation Corporation provides accident insurance for all New Zealand citizens, residents and temporary visitors, but you may still be liable for other medical related costs. For further information: https://www.acc.co.nz/im-injured/injuries-we-cover/