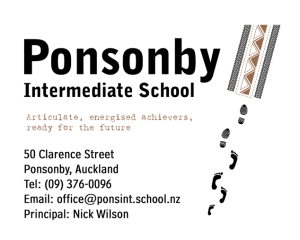 PONSONBY INTERMEDIATE SCHOOL :
REFUND POLICY FOR INTERNATIONAL STUDENTS
No Refunds Will Be Made Where:
Students are asked to leave the School by the Board of Trustees ("the Board") due to violation of School rules or breach of the conditions of the contracts signed for International fee paying students.

Students wish to transfer to another School.

Students return home for any reason other than the student's serious illness or the serious illness or death of a close member of the family.

Students acquire permanent residence after having enrolled at the School.
If the withdrawal is prior to the student attending the School, the fees paid will be refunded, less 10% of the administration costs incurred by the School.
In order to be eligible for any refund the parent or legal guardian must apply in writing to the  Board setting out the special circumstances of the claim.
The Board may refund to the person who paid (in respect of the student's enrolment in the subject, course or programme) fees paid to the school (or the sum of any instalments paid in respect of those fees) any amount it thinks appropriate not exceeding the sum of the following amounts:
The Board's best estimate of the cost to the Board (including the appropriate proportion of any  initial or start-up costs of the subject, course or programme) for one student up to that time.

An amount that is in the Board's opinion an appropriate reflection of the use made by one student receiving tuition in the subject, course or programme, of the Board's capital facilities.

The appropriate proportion of the amount (if any) paid by the Board with respect to foreign students.

All other fees (if any) prescribed by the Board.
5. In arriving at a decision the Principal will take into consideration the special circumstance of the withdrawing student and deduct an amount from the fees to cover:
a.              Costs already incurred by the School.
b.          The salaries of the teachers and support staff and any other components of the fee already committed for the duration of the course.
c.         Amount that covers use of the facilities and resources to date.
d.         Payment of the foreign student's levy to the Government.
6.           The Board will ensure that the school always has sufficient funds to be able to return to students any fees, should the School for some reason be unable to provide or continue to provide a course or programme to an International Student.
7.           All contracts will be subject to New Zealand Law. New Zealand Law will apply and the parties submit to the jurisdiction of the New Zealand Court. For further information: 
https://www.education.govt.nz/international-students/ – sh-international learners
Nick Wilson
Principal
______________________________________________________________________
I have read and understand the Ponsonby Intermediate School Refund Policy for International Students.