Learning Intentions (both year 7 & 8)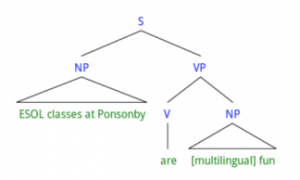 ​
1 – Can acquire English vocabulary and structure.
2 – Can understand and participate in New Zealand culture.
Students living in and visiting New Zealand will be schooled in immersion English. This can be a challenging prospect especially for those who are living here without family. Gaining an understanding of the English language is only part of what is needed to integrate into our society, at Ponsonby we offer a more holistic curriculum.
In the ESOL class, our students will be taught vocabulary and the structure of English alongside learning about the Kiwi lifestyle, culture and country. We explore current events and traditions as they happen and investigate the language and expressions that these learning opportunities offer. An example of this has been The Rugby World Cup which fuelled our literacy and numeracy programme.
Lessons are held over three mornings and for a block of two periods on Wednesdays.